Seasonal Yoga and food Retreats
Our flagship yoga retreats, where we appreciate how close to nature and its elements we are at Valley View and how have the chance experience the flow of those elements in your own body.
Seasonal yoga retreats are two night, two day breaks with dynamic yoga flows, Seasonal  Hatha Yin and Kundalini yoga, and a sound/gong bath.  There is a seasonal workshop and cooking session, to help you eat seasonally with wellness tips to help keep you in balance. And plenty of time in nature.
Seasonal yoga
Seasonal yoga is an invigorating practice that harnesses the energy of the season and works on many levels.  Living seasonally is a natural way to live. You may see yoga as a way to stretch and strengthen, or perhaps you are looking to release not just physical but mental tension too.  Just come with an open mind and the practice will offer all these and more besides.  In yoga, we cultivate awareness, we work with our energy and we break habits.  What we discover on the mat, we can take with us into life.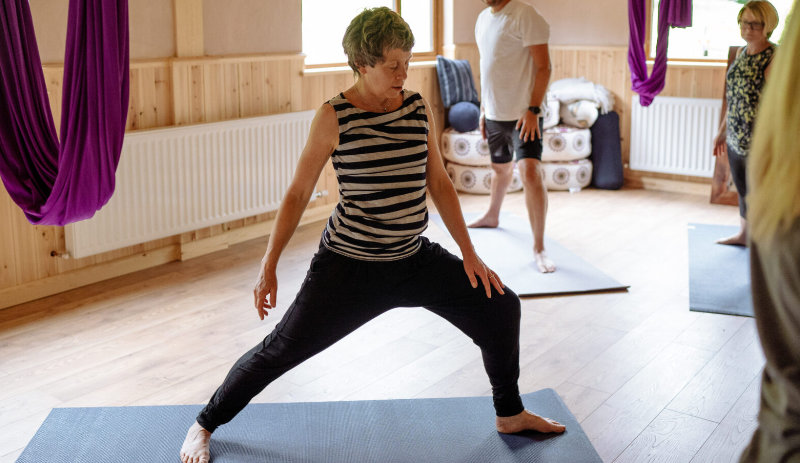 During seasonal yoga week-ends, not only do we work with the energy of the season but we can also help you develop a practice for your own mind body type. We welcome all levels of yoga students including complete beginners at all our events. However, on seasonal yoga retreats, the flow practices are energising a dynamic. As such they are not suitable for people with joint problems, high blood pressure or other health issues which limit movement.  Other aspects of the week-end can be enjoyed by all.  Or for a retreat with less dynamic practices see our  Total Wellness and Women's Wellness.
Seasonal food
Eating organically grown local food in season keeps our gut bacteria balanced naturally. On our retreats you will experience the joy of eating and cooking freshly grown and picked vegetables cooked with flavours to enhance digestion and nutrient uptake.  And there will be an opportunity to learn about seasonal growing, cooking and eating drawing on the ancient Eastern traditions and our own rich food culture.
Seasonal Yoga Programme
Our Seasonal yoga week-ends include different yoga styles yoga, Yoga Nidra, and a chance to learn about seasonal food and living. The programme will be adjusted to suit the energy of the season. Spring is a time of new beginnings; in Summer the energy is rising and we look to keep cool. Late Summer is all about finding a balance; Autumn is letting go. And in Winter we recharge and get ready to re-vitalise.
Friday: Ease into the week-end
Arrive from 3.00 p.m  settle in and enjoy our woodland and the surroundings.  Teas and snacks available.
5 .00 p.m: Relaxation followed by  flow yoga, to ease you into the week-end.
7 p.m: Supper
8. p.m: Introduction to the session, the season and to each other
9.00 p.m Bedtime Yoga Nidra with seasonal sounds
Saturday: 3 hours of yoga; sound batH
8.00 a.m  Pranayama (breathwork) by the Waterfall
9.30 a.m Breakfast
10.30 a.m – 12.30  p.m  Seasonal yoga flow and movement workshop with relaxation
1 p.m Lunch
3.30  p.m Hatha yoga with Mike
5 p.m Soundbath
6.45 p.m dinner
Night walk
Sunday: kundalini yoga, food and cooking
8.00 a.m  Kundalini yoga, pranayama  and meditation session
9.30  a.m Breakfast
10.00 a.m Questionnaire to discover your unique mind body type and what flavours work for you
10.30 – 11.45 Explore the vegetable garden and learn about seasonal growing
12.00 Seasonal flavours food and  cooking session
1.30 p.m  Seasonal lunch
3.30. p.m goodbye Yoga Nidra
No rush to leave
If you are not heading back to work – enjoy the site until dusk or  stay over for a small charge.